えのもと椿 ~ Enomoto Tsubaki
: Es la culpable de mis quebraderos de cabeza y el delirio de más de una
fujoshi
, ya que cuando no usa su otro pseudónimo,
堂本奈央
~
Dōmoto Nao
, usado para sus otros trabajos, anda trazando los más estilizados
BL
, apreciados por la crítica y el público. dibujante oficial de la firma
Biblos
, donde se publican la mayoría de sus trabajos desde 1996; hasta la fecha ha publicado al menos 20 mangas de estilo
yaoi
y unos 10
shoujos
de corte erótico (
smut
).
Enomoto Tsubaki info
Parece que la mayoría de trabajos de esta artista han sido dejados de lado, salvo un manga completo y pocos
oneshots
sueltos. Esto es lo que os traigo (en inglés):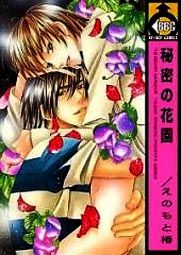 Himitsu no Hanazono (2002) - 2) Be With You
:
MF
DF
Género
: Romance, yaoi.
Un hombre de negocios se emborracha y tiene una aventura de una noche con su asistente.
5時から朝まで ~ 5 Ji kara Asa made (2003)
:
Género
: Sobrenatural, yaoi.
4) Koyoi Anata no Yasashii de Kiba
: Takeda un día decide confesar sus sentimientos a su compañero de trabajo, Sakurazawa, tras esto Sakurazawa lo rechaza inmediatamente. Takeda, sin embargo, se niega a darse por vencido y decide intentar confesarse a él una vez más. Sin embargo, en un esfuerzo por encontrar el momento para hacerlo, trabaja en exceso y termina enfermando...
MF
DF
5) 5 Ji kara Asa
: Un muchacho descubre que su primo que acaba de mudarse a Japón desde Estados Unidos es diferente a él. Umm... "ahí abajo". ¿Hasta dónde van a ir explorando sus diferencias?
MF
DF
第一級潤愛罪 ~ Daiikkyuu Junaizai (2003)
:
Género
: Yaoi.
V1. 1-2)
Hayama Hikaru oye el rumor acerca del "tamaño" de su compañero de trabajo Nanashima Yukihito, este resulta ser un tipo agradable y congenian, pero ¿Querrá Hayama ir más allá?
MF
DF
V2. 1)
Más que amante, pero menos que un ser querido. Fujimi Kyou sólo lleva dos semanas en la empresa y su jefe no para de intimidarlo, ¡y las bromas van en escalada hacia el acoso sexual!
MF
DF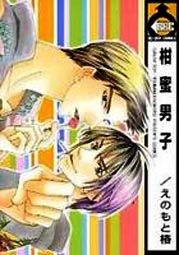 柑蜜男子 ~ Kanmitsu Danshi (2004)
:
MF
DF
Género
: Deportes, vida académica, yaoi.
1-2) Candy Boy
: Hyogo Sakura, peso pluma de la escuela secundaria y campeón de boxeo, se alejó de Yokohama, pero ahora que ha vuelto se reencuentra con su amigo de la infancia Kujuu Tetsushi, que practica karate. Mas Tetsushi otra vez sólo desprecia a Sakura...
3) Innocent Boy
: La familia de Hamuro Yuuki tiene problemas financieros y él ha decidido vender su cuerpo para conseguir dinero. Pero Yuuki quiere que el primero sea una persona que conozca antes de que tener que acostarse con otros hombres.
4) Creciente Escarlata/Creciente Carmesí
: Fujifusa, el gerente de la posada Sakura tiene un cliente, Takamiya Seiji, que quiere de Fujifusa algo más que un compañero de borracheras.
5) Candy Boy Afterwards
: Los chicos de Candy Boy, Tetsushi y Sakura tienen exámenes por delante y Sakura hace planes para celebrar el final del semestre.
Hisui ¡¡REGRESAA!!
Un saludo muy grande.