フォーチュンサモナーズ ~アルチェの精霊石~ Fortune Summoners ~ Aruche no seirei-seki ~ (2012)
:


Fortune Summoners: Secret of the Elemental Stone
es un juego de la compañía
Lizsoft
, traducido al inglés por
Carpe Fulgar
(
Recettear: An Item Shop's Tale
;
Chantelise: A Tale of Two Sisters
- ya subido por mí en su día -), considerado
beat'em up
, tiene mucho de esos añorados juegos RPGs de lucha en tiempo real con gráficos GBA, pero muy mejorados.
Tomaremos el rol de Arche, una linda chica que se ha mudado a un pueblo de Scotsholm llamado Tonkiness, donde sus padres abrirán una tienda de diversos objetos, en la vieja casa de su abuela paterna. Pronto ella tendrá que asistir a la famosa Escuela de Magia Minasa-Ratis, para hacer nuevos compañeros de clase y de aventuras. En un colorido mundo de magia plagado de bichos, monstruos, ruinas y laberínticas mazmorras por explorar.
En un sistema de juego de scroll lateral clásico, combates en tiempo real y el típico subir de nivel y equipar a nuestros personajes con lo mejorcito que vayamos encontrando o comprando en el emocionante mundo de las Piedras Elementales.
Os advierto que no es nada sencillo, apenas si voy por la segunda mazmorra y me han currado de lo lindo, en este sistema tendremos que alternar con los personajes que acompañan a nuestra aguérrida protagonista, personajes estilo kawaii, como Sana o Stella, muy MOEs y estereotipos que harán las delicias de los fanes de este estilo, como yo.


La instalación del juego, tras descomprimir el ejecutable, será sencilla, no hay necesidad de nada más, al empezar siempre nos saldrá la siguiente pantalla: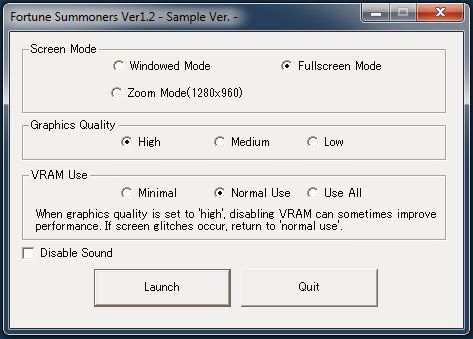 Escoged vuestros parámetros visuales y dadle a
launch
, el juego está en inglés.
Web Oficial (en japonés)
Un buen análisis (en castellano)
Requisitos
:
Entorno recomendado:
Sistema Operativo: Windows 2000/XP/Vista
DirectX 9, mínimo DirectX 8 o posterior.
Pentium IV a 1,5 GHz o superior; mínimo CPU Pentium III a 1,0 GHz o superior.
Memoria aconsejada 1 GB. Mínimo 512.
Espacio libre en disco duro de 500 MB o más; mínimo 250.
Se requiere una tarjeta de sonido compatible con DirectX 8 o posterior.
Windows Media Player 7.1 o posterior.
Compatible controlador de juegos Elecom JC-PS102USV.
Nota
: Para los patosos como yo incluí
walkthrough
, gracias a
Dragonkyrie
.
Fortune Summoners: Secret of the Elemental Stone. Parte 1
Fortune Summoners: Secret of the Elemental Stone. Parte 2
Fortune Summoners: Secret of the Elemental Stone. Walkthrough by Dragonkyrie
Por si hubiera problemas
AQUÍ
podéis bajaros el torrent.
Espero que os guste, es muy adictivo, pero difícil de pelotas.